Photo: Arian Molina Soca
"Spain" Coming at You in PAB's Don Q
Pennsylvania Ballet offers glimmering conceptions of Spain in a series of paintings come to life.
Colin Murray
October 22, 2019
Photo: Jasmine Lynea
Facing East Festival Celebrates Eastern Dance Through the Ritual of Practice
The dance was an offering, a quiet conversation from the dancer to the divine.
Annielille Gavino
October 23, 2019
Photo: Courtesy of Stars of American Ballet
A Ballet Sampler Platter
Stars of American Ballet presented a chef's tasting menu of ballet, with New York City Ballet's Daniel Ulbricht behind the stove.
Christina Catanese
October 25, 2019
Photo: Jorge Cousineau
On Aging and Endings: Zero to Sixty
A tribute, a parody, and a look into the past through the lens of ZeroMoving.
Kalila Kingsford Smith
October 26, 2019
Photo: Darryl Justin Padilla
Horrific and Whimsical Dream States
Violence, friendship, dreams and celebration at Temple Dance Alumni Showcase.
Kristen Shahverdian
October 28, 2019
photo: Erin Baiano
Tracing Absence
In THE DAY, four artists meditate on loss.
Emma Cohen
October 31, 2019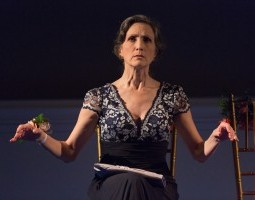 Photo: Mark Garvin
A Haunting Portrayal of Illness and Family
"A Small Fire" haunts long after its final scene
Kristi Yeung
October 31, 2019
Photo: Kenzi Crash
Single Thing, Infinite Folds
Nicole Bindler's belly button makes a case for invagination.
Leslie Bush
November 2, 2019
Photo: Levi Gershkowitz
A Day of Light and Movement
The Outlet Dance Project celebrates its 15th year with an extraordinary lineup.
Andrew Sargus Klein
November 2, 2019
Photo: Asya Zlatina
Intimate Portraits and Cultural Remembrance
Inciting pain and laughter in alternation, "Raise Your Voice/Maybe Even Higher" is at once disturbing and uplifting.
Colin Murray
November 3, 2019
Photo: Sloviter
The Little Prince and BalletX: Expansive Travels
"The Little Prince" is known for illuminating varying sides of human character, BalletX only succeeds in bringing a few of them to light.
Whitney Weinstein
November 7, 2019
Photo: Preeti Pathak
"The Stakes of this Play are the Stakes of the World"
Anissa Weinraub's Philly Education Stories explore strengthening Philadelphia's school communities through devised theater.
Preeti Pathak
November 7, 2019