Photo: Erin Reid
How are you alone? What brings you together?
"In Relate" is a solemn rumination hinting at something missing—from the performance, from myself, from elsewhere.
Andrew Sargus Klein
May 2, 2018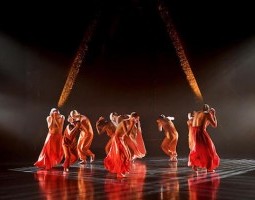 Photo: Pete Checcia
Searching for a Spark
How often is internal light, passion, fire, inspiration, or heat ever confined to perfectly staggered, centrally aligned rows?

Amelia Rose Estrada
May 3, 2018
Photo: Sherril Dodds
The Work that Dance Writing Does: Workshops with Sherril Dodds and Carolyn Merritt
Two thINKingDANCE writers reflect on writers' workshops.
Lynn Matluck Brooks
May 4, 2018
Photos: Erik Carter and Jaamil Olawale Kosoko
Down With The Regime
Notions of labor and personhood emerged as crucial to both artists' work.
Mira Treatman
May 8, 2018
Photo: Mira Treatman
Sunset Dances
I see their movement living in places far from here.
Maddie Hopfield
May 9, 2018
Trauma by Marion Darova. Photo: Yana Lozeva
Bulgaria on the map of European Dance – a personal journey in cultural dissociation
Classic modern dance aesthetics yet something new and Eastern European
Zornitsa Stoyanova
May 9, 2018
Photo: Lindsay Browning
Intimate Spaces
The small stages invited the audience into something personal and intimate.
Mohan Bell
May 10, 2018
Photo: Nicole Bindler
Swimming Toward Meaning
In Bindler's world, the aqueous is not tethered to the aesthetic qualities of smooth, slow, continuous, or sequential.
Maddie Hopfield
May 15, 2018
Photo: Joseph V Labolito
The Gridlock of HUMAN
Gibson takes the question "What is ballet in the 21st century" back to form.
Miryam Coppersmith
May 16, 2018
Photo: Arian Molina Soca
Opulence in Times of Change
Each time he hit fifth position, Idhe looked like he was home.
Mira Treatman
May 17, 2018
Photo: JH Kertis
Visible and Invisible Power
We see the dynamics of power shaped by historic narrative, social conventions, and our own unselfconscious playfulness.
Jonathan Stein
May 22, 2018
Photo: Hannah Oneda
Moving Bodies, Embodied Walls
A performance focused on the "human experience in relation to architecture" which questioned "concepts of stability"
Andrew Sargus Klein
May 24, 2018